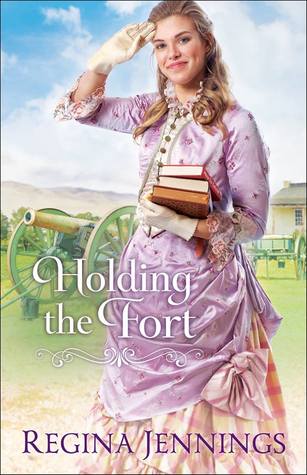 When dance hall singer Louisa Bell loses her job, she decides it's time to check up on her reckless brother at Fort Reno, but when she arrives, she's mistaken for the governess Major Daniel Adams has been waiting for. His two daughters are growing up faster than he'd like, and he needs a refined womanly presence to take them in hand. Miss Bell is hardly what he was expecting, and there's definitely something about her that doesn't ring true--but there's something about her that won't let him send her packing, either. Louisa hadn't intended to masquerade as a governess, especially with her lack of education, but it's employment and allows her to keep an eye on her brother. How hard can it be faking an upstanding governess for a few days? Or weeks? Or months?
I really enjoyed the story (though I had some small initial hesitation, even having loved the author's previous works--nothing good ever comes from lying about who you are). But it's delightfully funny, it's sweetly romantic, and it's a marvelous example of grace--everything I've come to expect from the author, while at the same time tackling a difficult subject.
Anytime the main character is masquerading as someone they're not, no matter how innocently begun, you know trouble is coming. The truth will out. Louisa certainly should have told Daniel the truth right away, but I like how the author treated it (it wasn't nearly as painful as I feared it would be). Daniel deserves some credit for that--he's a man of grace, who suspects she's not all that she seems. He knows she has secrets, but while he doesn't know what those secrets are, he has observed enough of her character and heart to love her regardless. Between his grace, his authority, and an unexpected reckless streak, he's a supremely attractive hero.
It was fun to recognize a smidgen of the history included in the story; I didn't know a thing about Fort Reno, but I am familiar with General Sheridan and have read enough about the Indian Wars and frontier forts to recognize commonalities across the board (not always things to be proud of . . . but history cannot be changed at this point). I can't wait for more stories about the fort--I hope to hear more about Louisa's brother and the learned lieutenant.
Thank you Bethany House and NetGalley for the free e-book. I was not required to write a positive review, and all opinions are my own.
Fort Reno
1.
Holding the Fort