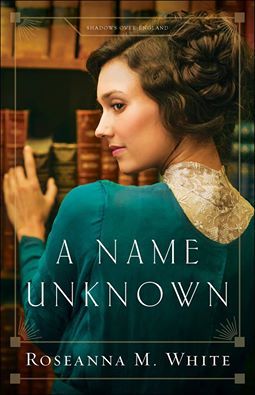 Rosemary Gresham, a thief with no family but a ragtag group of former street urchins, is hired to steal proof that a certain gentleman is loyal to Germany instead of Britain. Reclusive, stuttering Peter Holstein knows that war is coming, and anyone of German descent--especially him, with access to the king's ear--is suspect. Proof of his family's loyalty would go far to clearing his name, but his home is filled with three generations' worth of papers and books, and no one is willing to take on his chaotic, overflowing library. When Rosemary shows up at his door willing to take on the job, he's thankful to leave her to it and get back to his most closely-guarded secret--writing his next novel under the pseudonym Branok Hollow. But as anti-German sentiment rises and Rosemary digs into his past, will what she finds exonerate him--or condemn him?
There is a lot to love about this book, not the least of which is the unpredictability. With a professional thief for a heroine, it's really a toss-up what might happen. Rosemary ended up a lot more bold than I was expecting--not in a I-don't-need-anyone's-help kind of way (though she is remarkably self-sufficient, except for remembering to eat), but in a speak-her-mind-to-anyone and feel-perfectly-comfortable-plopping-down-in-the-local-pub-and-boldly-making-friends kind of way.
It had what I consider the best kind of romance--where two people overcome barriers first to become friends, and from there advance to a romance. Peter really is a sweetheart; Rosemary pegs him perfectly when she loses her temper defending him. I could understand being peeved at his one-track mind and habit of shutting out the entire world, though. He's a great sweetheart of a hero.
Having studied modern wars some, I enjoyed being able to keep up with the politics of this story as the powder keg that was Europe grows ever closer to exploding into war. It was fascinating to get a more personal view of the relational politics--how all the close familial relations between the major powers factored into it--and how the author makes the British royal family into real people, not just aloof state figureheads. I wouldn't call it particularly suspenseful, but it was a fascinating and spectacular book. I can't wait for the next one! Highly recommended!
Thank you Bethany House for providing a free book; I was not required to write a positive review, and all opinions are my own.
Shadows Over London
1.
A Name Unknown
2.
A Song Unheard
3.
An Hour Unspent
(Fall, 2018)