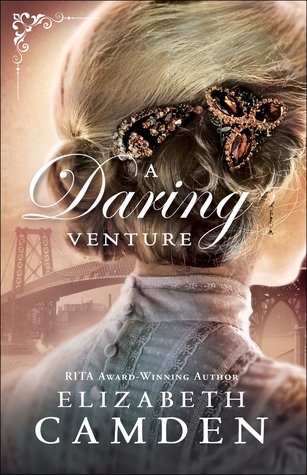 Rosalind Warner has made it her life's work to eradicate water-borne diseases, while Nickolas Drake, new Commissioner of Water for New York, has fought his whole life to bring water to even the poorest tenements of Manhattan. However, the two land on opposite sides of a lawsuit involving water filtration. Rosalind's new technology could mean safe water for New York, but in spite of his attraction to the scientist, Nick is unconvinced by her arguments. But not even Nick can stand aside when someone systematically sets out to destroy Rosalind.
One thing I can always count on in opening up a book by Elizabeth Camden, it will be so much more than I expect; there will be twists and turns such that the plot will end up in a totally different place than the book blurb implies, and I love it. (Not to call the blurb inaccurate--it isn't. The story is just so much more than the blurb.) While this is far from the most faith-filled of her novels, it is a fascinating story, full of controversy that's not unlike what we go through today with modern strides in science.
The title is apt--it truly was a daring venture to chlorinate the water system in the middle of a lawsuit and without permission (a historically accurate portion of the story, even if Rosalind and Nick are fictional). On the one hand, it's easy to approve of the chlorination project knowing what we do now and having a century of successful chlorination history. Rosalind was right that something had to be done to eliminate deadly water-borne disease that was so prevalent up until chlorination. But on the other hand, like Nick, I wouldn't have wanted my family to be the lab rats in testing the long-term consequences of chlorination, not when it was new. And I really wouldn't have been happy to find out it had been done without my knowledge and without giving me a choice in the matter; it's a major betrayal of trust. In this case it all worked out, but I'm not convinced they did right in going about it in secret.
I have never seen an author to compare with Elizabeth Camden for putting two people on opposite sides of an issue and having them both be right; it makes for a fascinating and thought-provoking read.
For the record, it's not all science and politics; besides a roller coaster of a romance, there's also a strong tie with the previous book in the Drake family issues that make for some additional suspense. I appreciated Nick's attempts to reconcile the families, and his ability to show compassion to someone who didn't deserve it. And I like the glimpse of where the next book in the series is going, and how Nick's job (and subsequent actions) in this story will have such an impact on the next.
Thank you Bethany House and NetGalley for the complimentary e-book. I was not required to write a positive review, and all opinions are my own.
Empire State
1.
A Dangerous Legacy
2.
A Daring Venture
3.
A Desperate Hope
(February 2019)