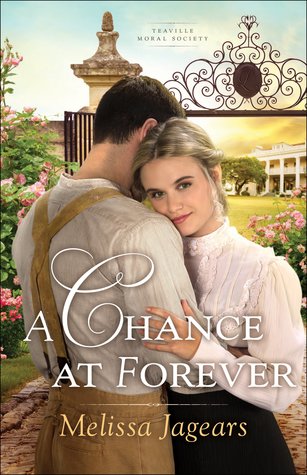 Mercy McClain, a member of the Teaville school board, is shocked to recognize Aaron Firebrook, a bully from her childhood, applying for the open teaching position. She has no intention of letting the bully who ruined her childhood having any authority over the children. While the hiring decision is put off until more candidates can be interviewed, Mercy is shocked yet again to discover Aaron has been hired to tutor some of the children at the orphanage Mercy helps run. Aaron claims to be a changed man, but can a man really change that much?
As with the previous books of the series, Jagears takes on heavy subjects of morality that are relevant both in the past and yet today. The author does a good job being fair in her portrayal of bullies. While bullying is in no way condoned, she makes a point of bringing up that every bully has a history, and sometimes a child is lashing out because of terrible things that happen behind closed doors. It doesn't excuse a bully's choices, but by understanding what can drive a child to bullying, it could mean getting a child help. In the case of Aaron's history, the author doesn't explicitly say what sort of abuse Aaron suffered, but one can draw some grim conclusions. It's brave of the author to delve into another of the grittier parts of reality, and she does so with taste.
If you're looking for light reading, this probably isn't the best choice. The story doesn't suffer for its heavier themes, but the tough questions posed to the characters (and subsequently readers)--not to mention the emotional impact of physical follow-through--can leave one exhausted, even in a story rife with forgiveness and hope. The story isn't a downer--it's actually quite uplifting, especially the epilogue. But it's a hard book to read purely for entertainment purposes without taking the time to ponder some of the issues it brings up.
As with the rest of the series, prepare to be challenged.
Thank you Bethany House and NetGalley for the free e-book. I was not required to write a positive review, and all opinions are my own.
Teaville Moral Society
0.5: "Engaging the Competition" (Prequel novella from
With This Ring?
novella collection)
1.
A Heart Most Certain
2.
A Love So True
2.5: "Tied and True" (novella from collection
Hearts Entwined
)
3.
A Chance at Forever