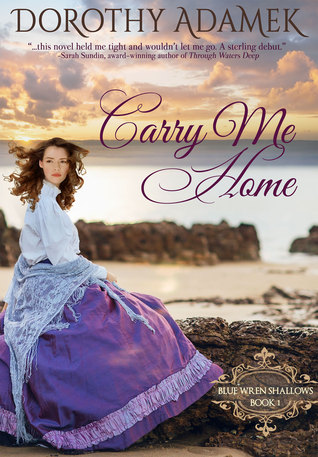 Finella Mayfield crosses two oceans to marry a preacher she'd been raised to wed . . . only to find him on his deathbed when she arrives in Australia. Shadrach Jones had promised the dying preacher to take care of Finella, so he offers her a position watching his simple sister for room and board. Finella only plans to stay in the wretched mud hole until her aunt can come from England to rescue her, but she finds herself falling in love with the motherless girl . . . and possibly even her older brother. But will it be enough to overcome the shadows of the past?
I loved the sense of setting, from the cliffs to the sea, to the flowers to the red mud everywhere. At its heart, it's the same as any other frontier setting--man tries to wrestle the inhospitable land into submission and eke out a living--but I loved the differences, like shoveling seashells from the shore to burn and grind into mineral for the fields, raiding the neglected nests of muttonbirds for eggs, using the copious amounts of clay to make bricks. They use what God has given them. Adamek captures a land so different from anything I've known and paints a picture even I can see.
There is still the stigma of the penal colony over Australia, as well as memories of the gold rush. Neither is easy for Shadrach to bear, but like the pioneers of America, he forges ahead, making the land his own--a new legacy, so different from the one in which he was brought up. I like his spirit and determination. Though Finella has some growing up to do, her heart for simple Molly is precious. One can hardly blame her for the culture shock of her arrival at the Jones homestead, especially after the shock of all the losses she'd already endured.
It's a sweet, tender story, and not without heartache. I look forward to the next book in the series.
Blue Wren Shallows
1.
Carry Me Home
2.
Carry Me Away
(late 2016)