Having been on a bit of a WWII kick lately, I felt like compiling a selection of Christian WWII fiction. Just so you know, there's a lot more out there than I thought! I severely doubt this is a comprehensive list, but I have tried to be thorough as possible.
* indicates I have read it
Lynn Austin
A Woman's Place
(2006)
*
While We're Far Apart
(2010)
Austin's works describe life on the Home Front for women, children, and men whose loved ones have joined the war.
Kate Breslin
For Such a Time
(2014)*
A retelling of Esther, focusing on a Czechoslovakian transit camp
Sigmund Brouwer
Thief of Glory
(2014)*
A gritty novel in the Pacific, in a Japanese internment camp
Kristy Cambron
Hidden Masterpiece
1.
The Butterfly and the Violin
(2014)*
2.
A Sparrow in Terezin
(2015)*
The present and the past intertwine in these books which take place both in WWII and the present.
Jack Cavanaugh
Songs in the Night
1.
While Mortals Sleep
(2001)
2.
His Watchful Eye
(2002)
3.
Above All Earthly Powers
(2004)
Eva Marie Everson
The One True Love of Alice-Ann
(2017)*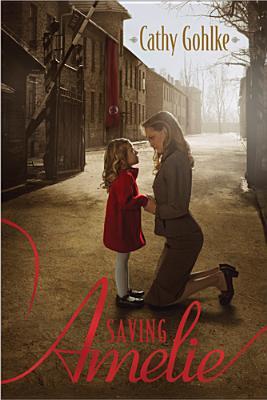 Cathy Gohlke
Saving Amelie
(2014)*
Secrets She Kept
(2015)*
Until We Find Home
(2018)*
Gohlke specializes in profound stories of Europe's role in the war--the beautiful, the ugly, the praiseworthy, the unspeakable--and wraps them in compelling narratives that shine God's truth from a dark place.
Tricia Goyer
WWII Liberators
From Dust and Ashes: A Story of Liberation
(2003)
Night Song: A Story of Sacrifice
(2004)
Dawn of a Thousand Nights: A Story of Honor
(2005)
Arms of Deliverance: A Story of Promise
(2006)
Love Finds You in Victory Heights, Washington
(2010)
Songbird Under a German Moo
n (2010) (Post-WWII Germany)
The London Chronicles
1.
A Secret Courage
(2017)*
2.
A Daring Escape
(2018)
Tricia Goyer and Mike Yorkey
The Swiss Courier
(2009)*
Chasing Mona Lisa
(2012)*
Swiss agents star in these two novels as they first smuggle an important scientist out of Germany and then race through France to rescue the
Mona Lisa
from German hands. Suspense and adventure are the main focus, though there is still a touch of romance.
Tracy Groot
Flame of Resistance
(2012)
*
A tale of French resistance--and retelling of the story of Rahab--in the final weeks leading up to D-Day
Judith Pella
Daughters of Fortune
1. Written on the Wind
(2001)
2. Somewhere a Song
(2002)
3. Toward the Sunrise
(2003)
4. Homeward my Heart
(2004)
Cara Putman
Stars in the Night
(2010)
*
Shadowed by Grace
(2013)
Historical suspense, first on the Home Front in Hollywood and then in Italy
.
Sarah Sundin
Wings of Glory
1. A Distant Melody
(2010)
*
2. A Memory Between Us
(2010)
*
3. Blue Skies Tomorrow
(2011)
*
Focusing on the Novak family of California, all three sons have joined the air force and battle the Germans over in Europe.
Wings of the Nightingale
1. With Every Letter
(2012)*
2. On Distant Shores
(2013)*
3. In Perfect Time
(2014)*
Just as the Civil War was the start of a new era for nurses - women as nurses in hospitals! - so WWII put them in a new place: on board aircraft for medical evacuations. While injured men were being evacuated to hospitals and out of harm's way, nurses tended them to keep them alive on the flight to safety, sometimes hours away. Sundin's series follows three different flight nurses and their experiences as some of the first women in the air - from the intense training, to the prejudice received, to their incredible mark on history.
Waves of Freedom
1. Through Waters Deep
(2015)*
2. Anchor in the Storm
(2016)
*
3. When Tides Turn
(2017)*
Sundin's next series follows the Avery family, with three naval officers from Boston fighting in the Atlantic during the early years of WWII, and the three women - a shipyard worker, a pharmacist, and a WAVE (Women Accepted for Volunteer Emergency Service) - with whom they fall in love.
Sunrise at Normandy
1.
The Sea Before Us
(2018)*
2.
The Sky Above Us
(2019)
3.
The Land Beneath Us
(2020)
Three estranged brothers--in three different branches of the service--some together on the shores of Normandy.
Bodie and Brock Thoene
Zion Covenant
1. Vienna Prelude
(1989)
2. Prague Counterpoint
(1989)
3. Munich Signature
(1990)
4. Jerusalem Interlude
(1990)
5. Danzig Passage
(1991)
6. Warsaw Requiem
(1991)
7. London Refrain
(2005)
8. Paris Encore
(2005)
9. Dunkirk Crescendo
(2005)
Liz Tolsma
Women of Courage
1. Snow on the Tulips
(2013)
*
2.
Daisies are Forever
(2014)
*
3. Remember the Lilies
(2015)
Dan Walsh
The Unfinished Gift
(2009)
The Homecoming
(2010)
The Discovery
(2012)
The first two take place on the Home Front in WWII, while
The Discovery
is actually a contemporary novel about a young man finding his deceased grandfather's manuscript to a WWII love story, and what he learns through the tale.
Susan May Warren
Sons of Thunder
(2010)
Nightingale
(2010)*
Nightingale
looks into the American prisoner of war camps in the Midwest - where German soldiers were held right next door to many German immigrants and first generation Americans who still had strong ties to Germany.
NOVELLA COLLECTIONS
Where Treetops Glisten
(2014)* by Tricia Goyer, Cara Putman, and Sarah Sundin - a heartwarming, Christmas-themed collection set in WWII
What other Christian WWII novels do you recommend?