Karen Witemeyer, Regina Jennings, Carol Cox, and Mary Connealy combine their talents in an anthology of four novellas set in Dry Gulch, Texas, where Hannah Taylor, a well-meaning busybody, starts matching up women in trouble with suitable men of good character to help them out. Clara, Grace, Lucy, and even Hannah herself find love in this humorous but thoughtful western anthology.
Those who have read Karen Witemeyer's novels
Short Straw Bride
and
Stealing the Preacher
will find "A Cowboy Unmatched" to be a coda to her previous books about the Archer brothers, as this novella features Neill, the youngest of the Archer boys, who finds himself falling in love with a widow as he repairs her roof. Having read the other books, it was fun to see how Neill's history played into the story - because his best friend is black, race has no real meaning to him, so a part Comanche woman is not remotely an issue. Additionally, the family love and protectiveness that characterizes the Archer boys stands out in Neill. Even though Clara is not in any other book, we get a quick but clear picture of her strengths, struggles, and faith - plenty to know that she will fit in with her future sisters-in-law.
In "An Unforeseen Match" by Regina Jennings, Grace O'Malley is stuck living off of charity alone on a dilapidated homestead, now that she can no longer teach thanks to the blindness overtaking her eyes. Clayton Weber finds himself horseless on the way to a race for land, so he is willing to take on just about any job that will get him enough money for a new horse, which is how he finds himself working for the bossy ex-school marm. I like how Grace is portrayed - she is chafing from being so dependent on people who never let her do anything for herself, yet when someone finally makes her figure it out on her own, it isn't fun, it's scary, and it's incredibly frustrating. As annoying as it had been to have people preventing her from doing anything, it had become
comfortable
. It made me think, how often do we grumble about something only to get what we wanted, and then have to struggle through the unpleasant adjustment period? Be careful what you wish for . . .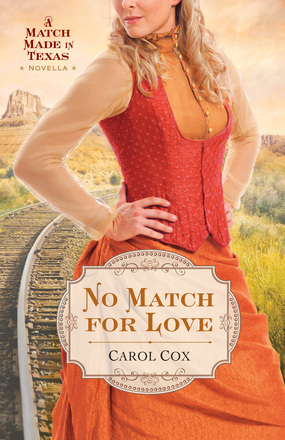 Carol Cox's "No Match for Love" tells of Lucy Benson, a young woman who, after six proposals from an annoying local man, finds it prudent to skip town and find something to do with her life. Andrew Simms, looking for a companion for his potentially loony aunt, ends up with Lucy, who can't even make a pot of tea without burning it, but at least she is sane company - until she starts seeing things too. This story was cute, with a number of misunderstandings and mismatched personalities learning how God can use anyone and any circumstance to His purpose.
The final story, "Meeting Her Match" by Mary Connealy, concludes the anthology when Hannah ends up in a spot of difficulty herself, and the whole town seems to get behind matching her up with Mark, the banker's son, whose shyness has prevented him from speaking up to her. Considering that practically the whole town gets in on the rather dirty trick, Hannah and Mark take it fairly well, but I would not have been remotely pleased (but then, I don't like being pressured into
anything
). It was also a cute and funny story.
My main complaint with novellas is that they are just too short and tend to be rushed - but when they are less than 100 pages each, it is hard to write a super in-depth story. For being less than 100 pages each, I thought that these are well done, though. They tie together well - each one starts in Dry Gulch, and though they spin off in different directions with some full of danger and some an emotional ride, they are all on the common theme of an anonymous aid matching up a woman who needs help with a man of good character who can do the job. That the town does for Hannah as she did for the other three women is a nice twist. Over all it is a nice collection of sweet, thoughtful stories. 4 out of 5 stars!
Thank you Bethany House for providing me with a free copy for the purpose of review; I was not required to make it positive, and all opinions are my own.